Following Friday's strong labor report, the United States realized unbelievably stunning job gains. After weeks of a COVID-led impact, the stock market finally experienced positive news. Thus, mortgage rates ended the week a little higher.
Unbelievably Stunning Job Gains Headline Economic Data
For perspective, typical monthly job gains hovered around 200,000 in 2019. In April, the economy lost a staggering 20 million jobs. Also, the consensus forecast for May saw a massive decline of another 8.0 million. Instead, the economy added unbelievably stunning job gains, achieving 2.5 million jobs. With the gains, the unemployment rate dropped from 14.7% to 13.3%. Therefore, the unemployment rate fell well below the consensus forecast for an increase to 20.0%.
The details of the report contained nothing to diminish the amazingly positive results. The leisure and hospitality sector, after losing 9.7 million jobs in April, gained 1.2 million in May. Construction added about another one-half million. In general, the sectors which were hurt the most by the shutdown of much of the economy due to the pandemic showed the largest rebounds.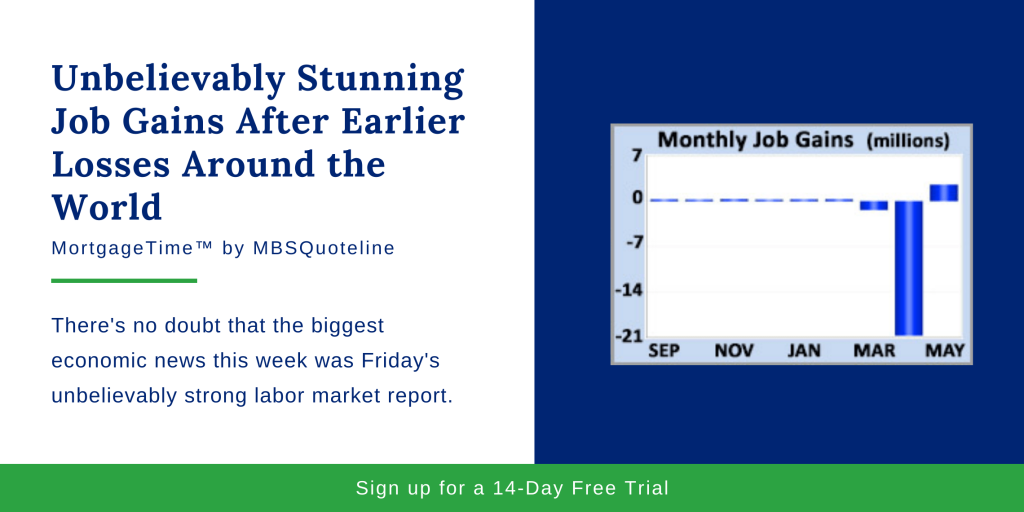 Services & Manufacturing Indicate Rebound
Aside from the unbelievably stunning job gains, the other major economic reports released this week contained clear signs of a rebound. The May ISM national services index rose more than expected to 45.4 from a reading of 41.8 in April.
Similarly, the ISM national manufacturing index increased to 43.1 from 41.5 in April. Since stronger economic activity raises the outlook for future inflation, this week's economic data was negative for mortgage rates.
Looking Ahead After Unbelievably Stunning Job Gains
After the United States realized unbelievably stunning job gains, investors continue to watch for news about medical advances, government stimulus programs, and plans for reopening the economy. Beyond that, the next Fed meeting will take place on Wednesday. Investors seek guidance about monetary stimulus programs.
Concurrently, the Consumer Price Index (CPI) comes out on Wednesday. Investors widely follow the monthly CPI inflation report for price changes pertaining to goods and services.
---
Following the news of the unbelievably stunning job gains, mortgage rates climbed slightly. Never miss an update with MBSQuoteline. To receive by-the-minute updates on mortgage-backed securities, try our platform free for 14 days.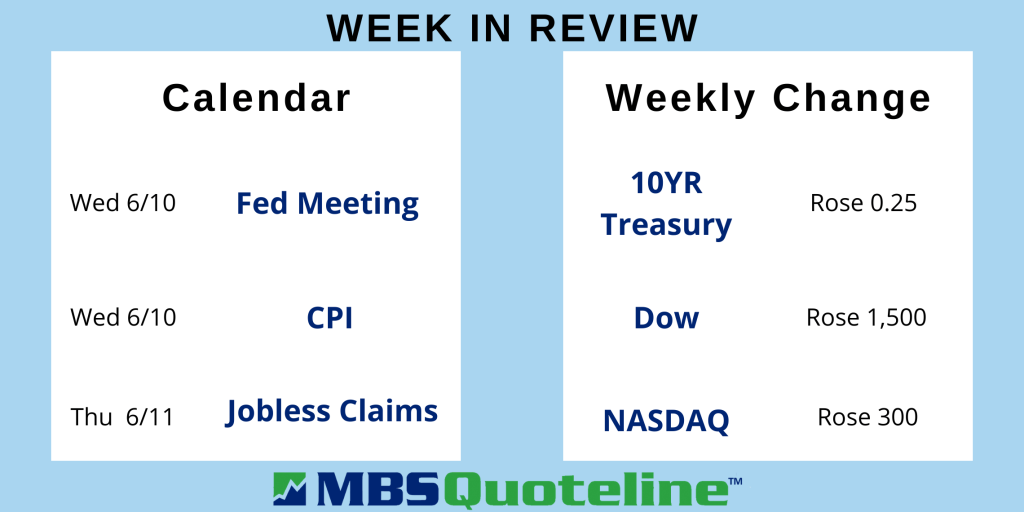 Stay connected with MBSQuoteline on social media by following us on Facebook, Twitter, and LinkedIn.
All material Copyright © Ress No. 1, LTD (DBA MBSQuoteline) and may not be reproduced without permission. To learn more about the MortgageTime™ newsletter, please contact MBSQuoteline at 800.627.1077 or info@mbsquoteline.com.