This week, mortgage rates faced volatility as there remained a strong focus on the French election. For the unacquainted, French citizens vote to elect its President on Sunday.
Daily movements offset the chaotic market action. Therefore, mortgage rates ended the week with little change. Overall, mortgage rates stayed near the best levels of the year.
Focus on French Election
As investors focus on the French election, the world eagerly awaits its first round on Sunday. During the French election, the two candidates who receive the most votes proceed to the second round. The second round of voting takes place on May 7th.
Holistically, the current polls show that the top four candidates hover very closely. Two of these four candidates, Le Pen and Melenchon, favor exiting the European Union (EU). This possible outcome led investors shift their funds to safer assets. Overall, this movement helped mortgage rates in recent weeks.
France maintains its status as a key member of the European Union. If France exits the European Union, the economic impact remains uncertain. As a result, a strong showing by the anti-European Union candidates likely causes investors to shift additional funds into safer assets. Again, this benefits mortgage rates. However, if the anti-EU candidates perform poorly, investors intend to shift back towards riskier assets. In this event, mortgage rates face a negative impact. With the noticeable focus on the French election, investors expect additional volatility for mortgage-backed securities.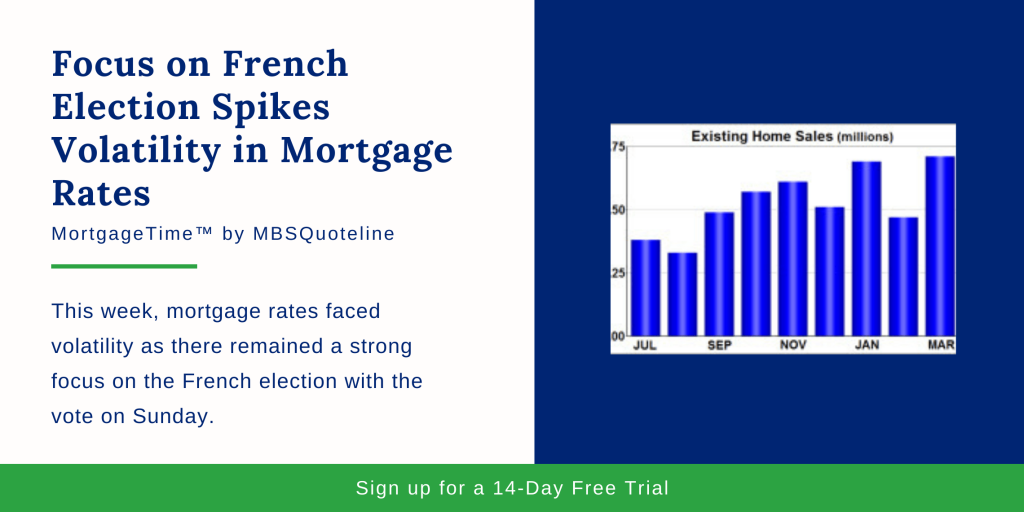 Housing Market Shows Encouraging Data
Aside from the focus on the French election, Friday showed encouraging housing market data. Sales of previously owned homes in March rose 4% from February. Thus, existing home sales hit their highest level since February 2007.
Meanwhile, the median price increased 7% higher from a year prior. Typically, properties stayed on the market for a very short 34 days. This represents quite the decline compared to February.
Looking Ahead After Focus on French Election
Looking ahead after investors focus on the French election, analysts await the impact on the United States markets. In all likelihood, the impact occurs on Monday after Sunday's voting.
Beyond that, New Home Sales release on Tuesday. Later in the week, Durable Orders and Pending Home Sales come out on Thursday.
Finally, the first reading for first quarter GDP publishes on Friday. GDP shows the broadest measure of economic activity. In addition, the next European Central Bank meeting takes place on Thursday.
---
Want to see how the focus on the French election impacts mortgage-backed securities? Never miss an update with MBSQuoteline. To receive by-the-minute updates on mortgage-backed securities, try our platform free for 14 days.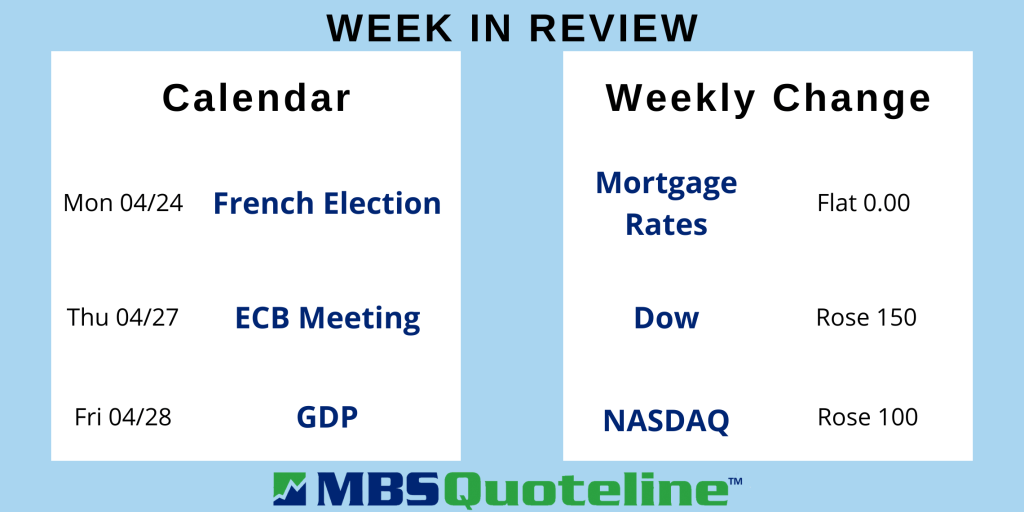 Stay connected with MBSQuoteline on social media by following us on Facebook, Twitter, and LinkedIn.
All material Copyright © Ress No. 1, LTD (DBA MBSQuoteline) and may not be reproduced without permission. To learn more about the MortgageTime™ newsletter, please contact MBSQuoteline at 800.627.1077 or info@mbsquoteline.com.