This past week, analysts and investors closely watched the latest employment report. Unfortunately, it revealed that job gains went down, falling short of expectations.
For the most part, the other major economic reports coincided with expectations. In other news, investors shifted to riskier assets. While doing so, stocks increased while bonds decreased. As a result, mortgage rates ended the week higher.
Job Gains Fall Short in Latest Employment Report
The latest employment report suggested that COVID-19 hindered job creation. Friday's release showed that the economy added just 194,000 jobs in September 2021 against a consensus forecast of 500,000. While this result resembles August 2021, job gains plummeted dramatically from over one million in July of this year.
However, there were many offsetting factors. First, upward revisions added 169,000 jobs to the results for prior months. Second, the unemployment rate declined from 5.2% to 4.8%. Not only did unemployment decline far below the consensus forecast of 5.1%, it also hit the lowest level since February 2020. These two components often paint a somewhat different picture. While companies provide data for the job gains calculation, the unemployment rate is based on a separate survey of individuals.
Analysts also looked for the latest figures on average hourly earnings. Average hourly earnings, an indicator of wage growth, rose 0.6% from July 2021. This statistic jumped well above the consensus of 0.4%. Of note, average hourly earnings clocked in at an impressive 4.6% higher than a year ago. The latest employment report showed that this number also climbed above an annual rate of increase of 4.0% last month.
Education jobs sharply underperformed expectations. Analysts attribute this due to distortions in the seasonal adjustment caused by the pandemic. Experts adjust education job data to reflect historical seasonal trends, such as the start of the school year. Concurrently, many of the usual hiring and firing patterns changed during the pandemic. To summarize, job gains fell short partly due to seasonal issues related to the pandemic. On the other hand, wage gains remained very strong. Conclusively, the report barely affected mortgage rates.
ISM Service Sector Index Reports Growth
Aside from the latest employment report, the Institute of Supply Management (ISM) released another significant economic report. The ISM national service sector index rose to 61.9. Not only did the service sector index rise above the consensus forecast of 60.0, it also neared a record-high. Levels above just 50 indicate that the sector is expanding. Readings above 60 are rare.
Of note, a large number of companies reported difficulties in hiring enough skilled workers to keep up with growing demand. Many other companies indicated that supply chain disruptions held back production. Because of these current obstacles, later months may see stronger readings as companies catch up.
Looking Ahead After the Latest Employment Report
Looking ahead after the latest employment report, investors closely watch global COVID-19 cases. They also look for hints from Fed officials about the timing for changes in monetary policy.
Beyond that, mortgage markets close on Monday in observance of Columbus Day. The Consumer Price Index (CPI) comes out on Wednesday. Analysts widely follow CPI. The CPI report comes out monthly and indicates inflation via price changes for a broad range of goods and services.
Finally, Retail Sales release on Friday. Since consumer spending accounts for over two-thirds of U.S. economic activity, the retail sales data represents a key growth indicator.
---
Want to see how the latest employment report affect mortgage-backed securities? Never miss an update with MBSQuoteline. To receive by-the-minute updates on mortgage-backed securities, try our platform free for 14 days.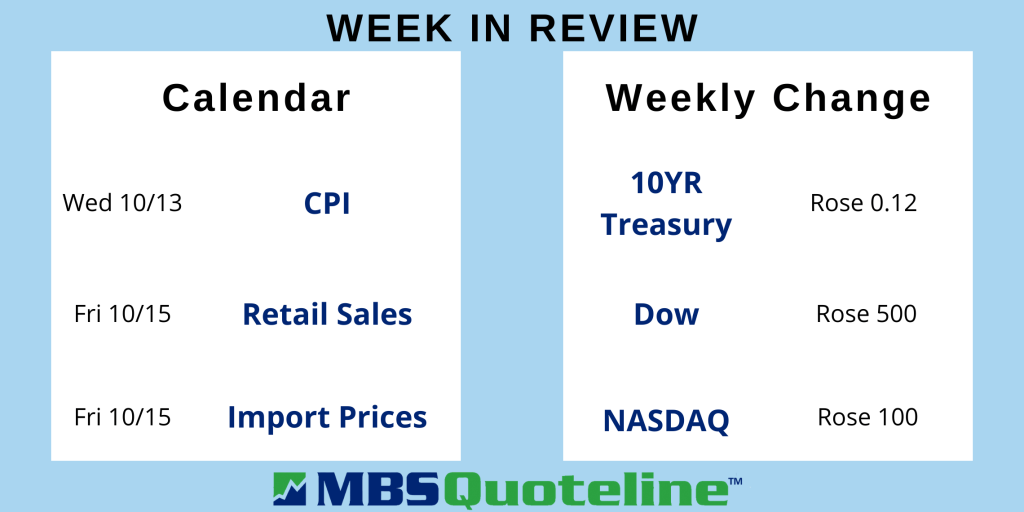 Stay connected with MBSQuoteline on social media by following us on Facebook, Twitter, and LinkedIn.
All material Copyright © Ress No. 1, LTD (DBA MBSQuoteline) and may not be reproduced without permission. To learn more about the MortgageTime™ newsletter, please contact MBSQuoteline at 800.627.1077 or info@mbsquoteline.com.