Mortgage markets had a rough week as investors pondered the appropriate yield levels for the current economic environment. Initially, it looked promising on Wednesday afternoon. At Wednesday's Fed meeting, the Fed revealed no policy changes. Also, mortgage rates dropped from their peak.
However, the climb resumed the next day. Ultimately, mortgage rates ended the week higher.
Bond Purchases & Mortgage Markets
As expected, the Fed made no change to the federal funds rate. In addition, the Fed's statement contained no significant surprises. This is one of the few factors that didn't cause the volatile week for mortgage markets.
Notably, the Fed did not give any indication of adjusting its current $120 billion monthly pace of bond purchases. Also, most officials expect the federal funds rate to remain near zero through 2023.
However, the growth and inflation forecasts from officials were significantly higher than in December. 2021 median GDP growth rose from 4.2% to 6.5%. This is the strongest growth rate in decades.
Overall, investors are optimistic about the economic outlook. That said, they will be closely watching for signs that the Fed will begin to scale back its bond purchases.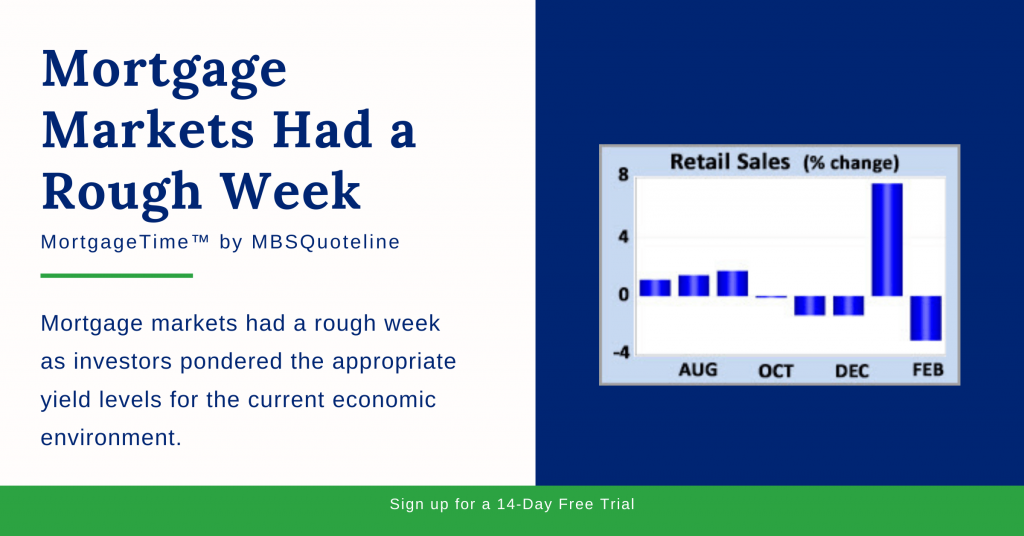 Consumer Spending & Volatility for Mortgage Markets
Consumer spending accounts for over two-thirds of all economic activity in the United States.
Due to this, retail sales data is a key indicator of growth. Sales were extremely volatile during the first half of 2020 due to the pandemic. Later, they held relatively steady each month during the second half.
In 2021, volatility returned during the first couple of months of this year. Back in January, retail sales rose to a revised 7.6%. This is attributed to the distribution of stimulus checks.
Last month, however, retail sales unexpectedly declined 3.0%. This contributed to the rough week for mortgage markets. Many attribute this result to the severe weather in many regions of the United States.
Poor Weather Conditions Limit Home Construction
Retail sales data wasn't the only metric affected by the severe weather conditions. Poor weather conditions also negatively impact home construction in February, in turn, influencing the rough week for mortgage markets.
Housing starts fell 10% from January. This was a larger than expected decline. Despite this, many consider this to be a one-time distortion. With that in mind, the general consensus is that this provides little information about long-term trends.
Looking Ahead After Mortgage Markets Had a Rough Week
Looking ahead after the rough week for mortgage markets, investors continue monitoring the marketplace. Even in March, investors watch COVID-19 case counts and vaccine distribution.
Beyond that, next week features fascinating data updates. Existing Home Sales comes out on Monday. New Home Sales comes out on Tuesday. Both Personal Income and the Core PCE price index, the inflation indicator favored by the Fed, will come out on Friday.
---
Want to see how a volatile week impacts mortgage-backed securities? Never miss an update with MBSQuoteline. To receive by-the-minute updates on mortgage-backed securities, try our platform free for 14 days.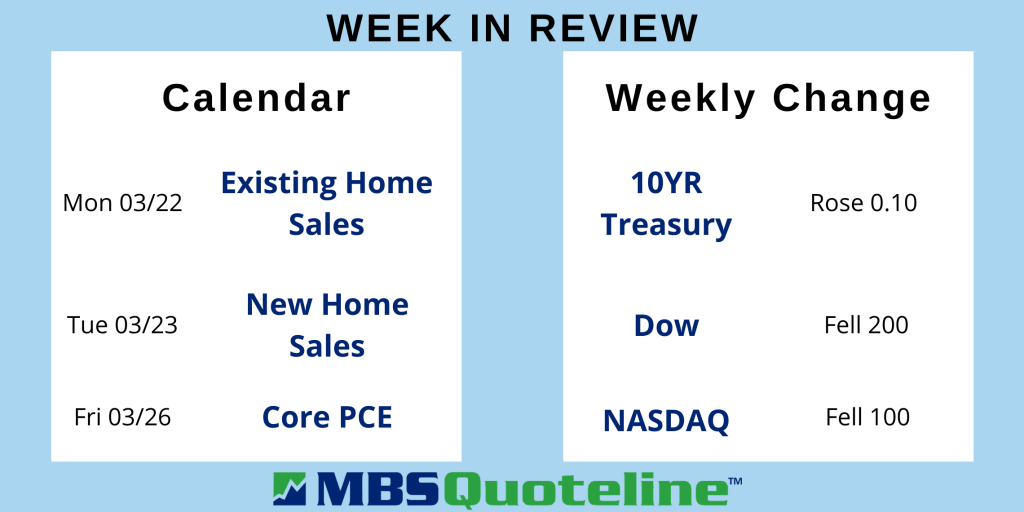 Stay connected with MBSQuoteline on social media by following us on Facebook and LinkedIn.
All material Copyright © Ress No. 1, LTD (DBA MBSQuoteline) and may not be reproduced without permission. To learn more about the MortgageTime™ newsletter, please contact MBSQuoteline at 800.627.1077 or info@mbsquoteline.com.